<遊び方>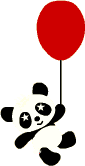 マウスボタンを押すと、パンダは上昇します。はなすと下降します。
ハートを取ると得点が入ります。
鳥に風船を割られるとゲームオーバーです。


←パンダ

<得点>


←ハート (100点)


←大きいハート (1000点)
<鳥>


←緑の鳥


←青い鳥 (2羽で壁になって飛んで来ます。)


←オレンジ色の鳥 (速い!)

'Twas the day the air was sweet, Panda mounted to the sky hanging onto his balloon to gather the hearts floating in the air. Oops! The birds come to crack the balloon.

Use your mouse button to guide Panda; during the mouse button is pressed, he goes up, and released, down. You have to be careful, good luck! See how far you have him fly.

High scores are renewed according to Japanese date.